Deepika Chikhalia is an Indian actress who rose to fame playing Sita in Ramanand Sagar's hit television series Ramayan. She met with limited success in films in the late 1980s and early 1990s. She was born on 29 April 1965[citation needed], and stands approximately 4'10" tall[citation needed.
She followed up her television career with a move into politics, riding her fame as a religious icon to an election victory as a Member of Parliament in the Indian Lok Sabha from Baroda constituency in 1991 as a Bharatiya Janata Party candidate.
Deepika grew up in Girnar Apartments, in the affluent Pali Hill area of Bandra, a suburb of Mumbai. She has a younger sister Aarti and younger brother Himanshu Chikhlia She has also done other roles such as Tipu Sultan's mother in The Sword of Tipu Sultan a TV series by Sanjay Khan citation needed].
She is married to Hemant Topiwala, owner of Shingar Bindi and Tips and Toes cosmetics. They have two daughters.
Deepika Chikhalia
Deepika Chikhalia
Deepika Chikhalia
Deepika Chikhalia
Deepika Chikhalia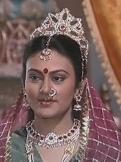 Deepika Chikhalia
Deepika Chikhalia
Deepika Chikhalia
Deepika Chikhalia
Deepika Chikhalia
Deepika Chikhalia
Deepika Chikhalia